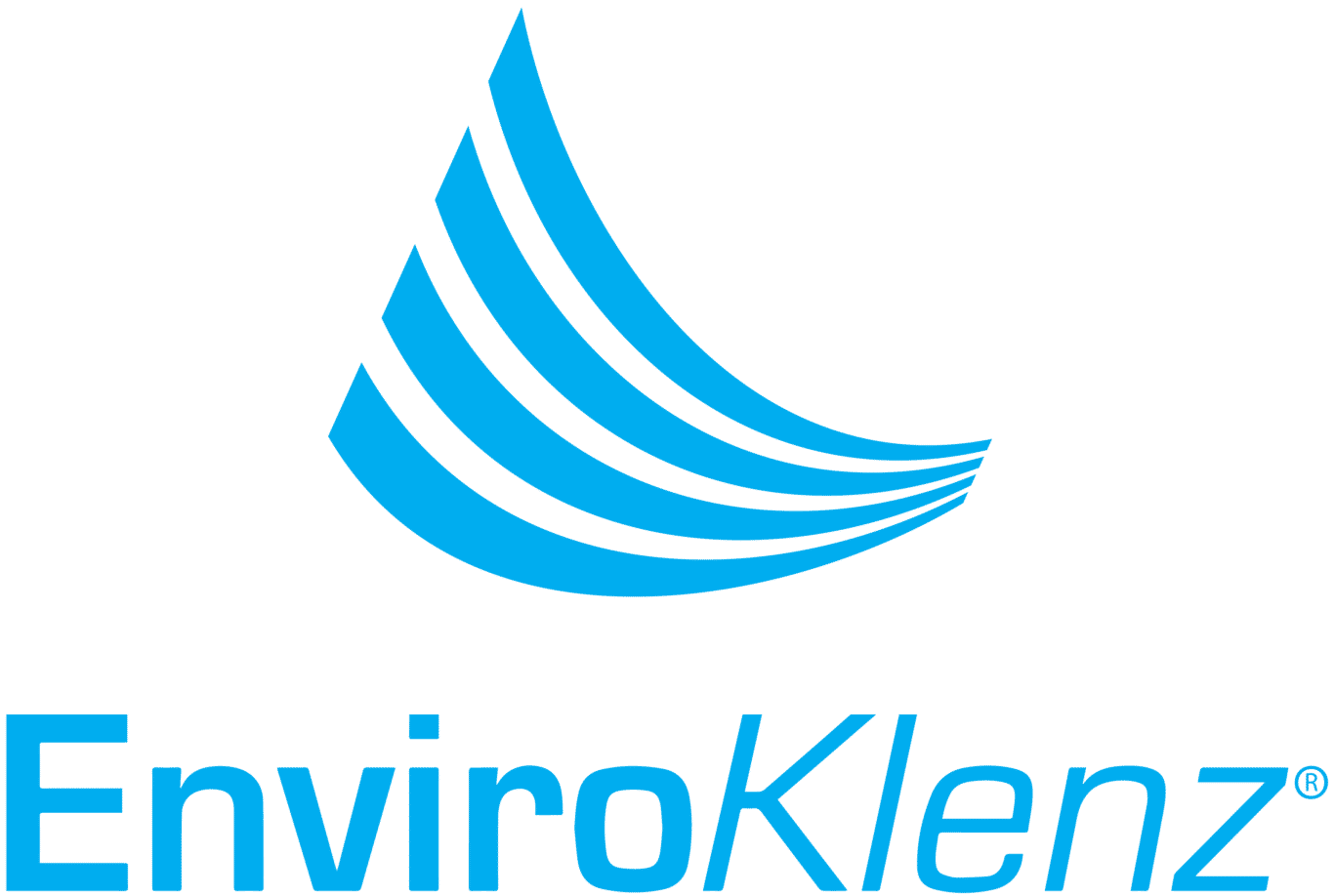 Mobile Air System Promotion
Live Fit is a proud affiliate with EnviroKlenz. Read on for more information on how this amazing air cleaner can improve your health.
To save 5%, use coupon code "LFL5" at check out.
Simple Design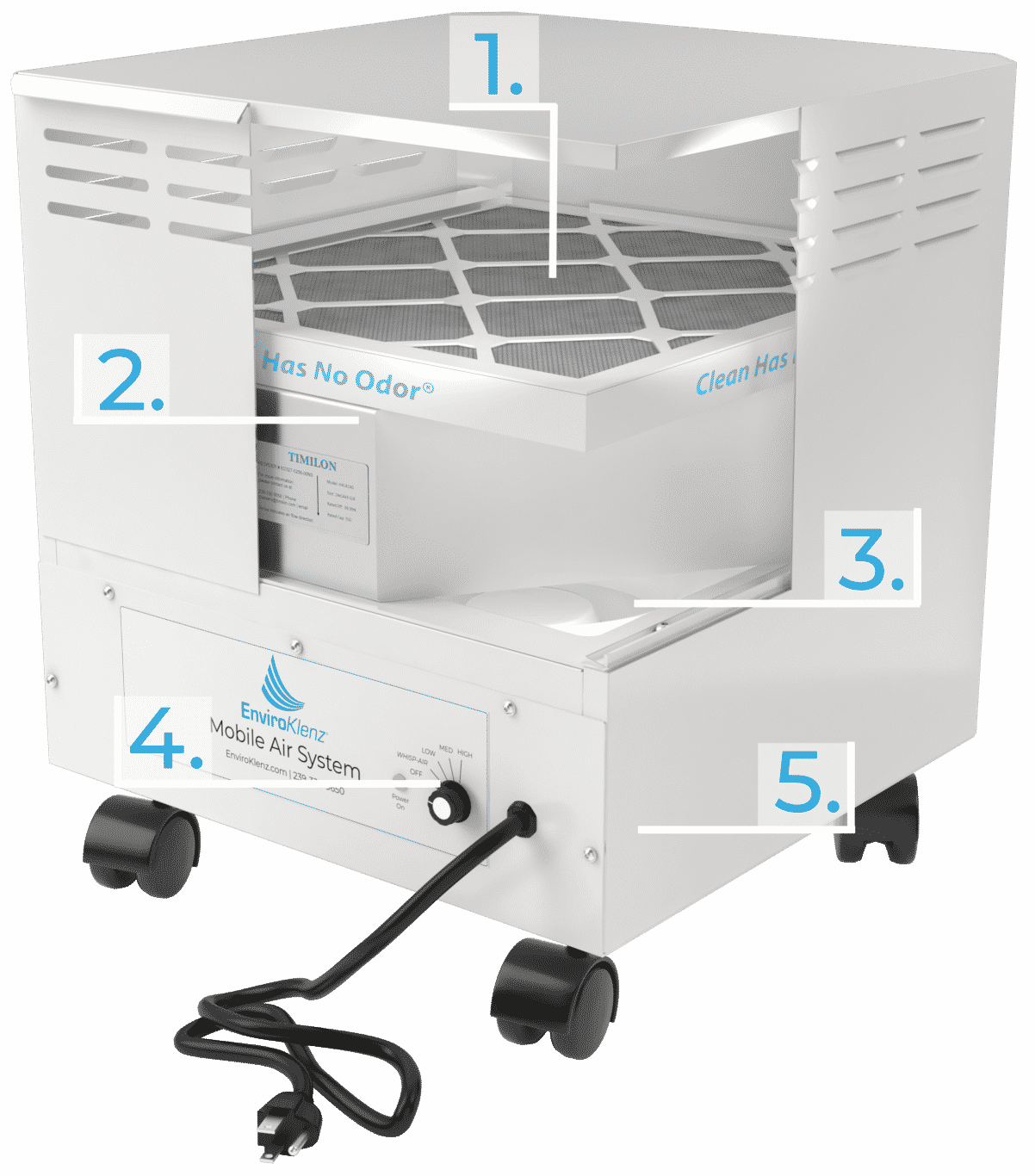 1. EnviroKlenz Air Cartridge
The EnviroKlenz Cartridge contains our patented earth mineral technology which works through a process of destructive adsorption of the chemical odors and VOC's. As the polluted air comes into contact with the EnviroKlenz earth minerals it adsorbs, neutralizes, and breaks down the chemistry of the chemical compound.
Recommended Changeout Every 5-6 months
2. HEPA Filter
3. Blower
4. Four-Speed Fixed Dialer
5. Exterior
Standard Model
UV Model
Dimensions
19 inches x 15 inches x 15 inches
22 inches x 15 inches x 15 inches
Weight
38lbs
45lbs
Germicidal Destruction
None
UVC lamps are located before and continuously radiating on the collection side of the HEPA filter to kill the collected and passing organisms at a high efficiency.
HEPA Filtration
99.99% > 0.3 μm
CFM
WhispAir- 85
Low- 150
Medium- 200
High- 250
Power
115 volts
Decibel
WhispAir- 54 DB
Low- 56 DB
Medium- 59 DB
High- 62 DB
Room Size
Treats Up to 1000 Square Feet
How it Works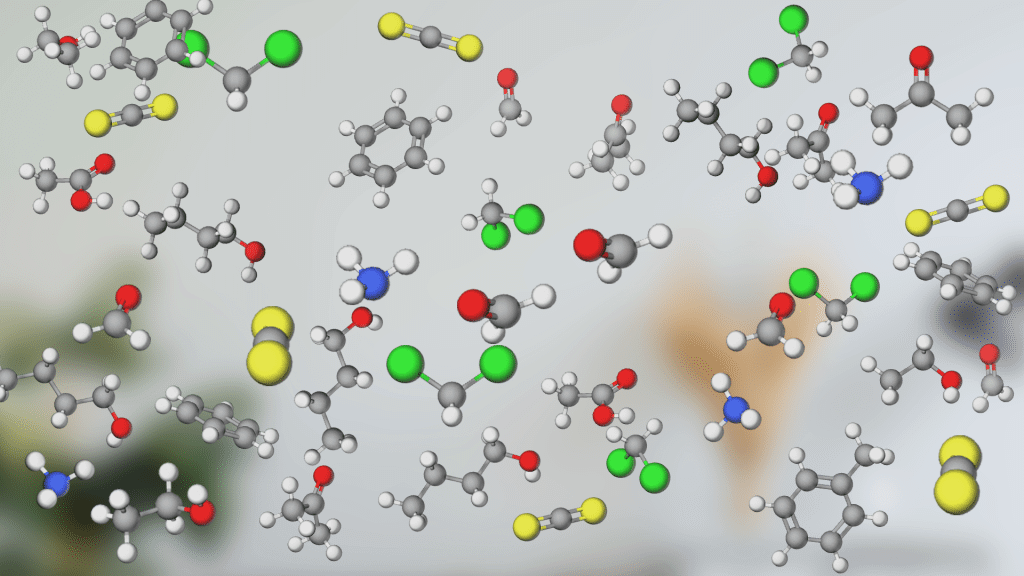 VOC's and particulates are circulating throughout your indoor environment posing a potential risk to your health if not treated.
How EnviroKlenz Technology Compares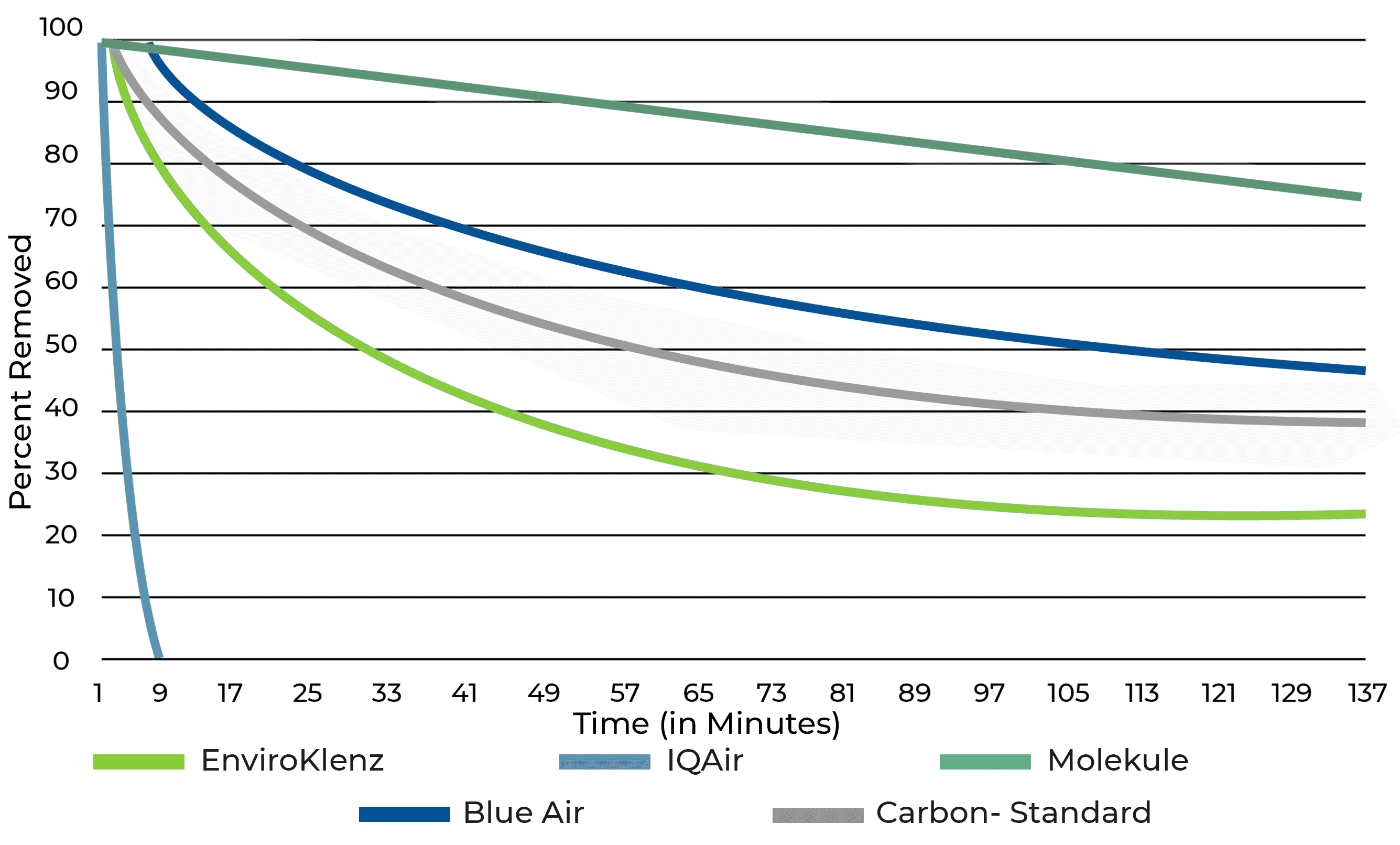 Formaldehyde Removal
In this study against formaldehyde, the IQAir® was able to reduce the compound the fastest from the chamber due to having a much higher loading of media. The Molekule® did not have much impact on the formaldehyde in this study. The BlueAir® HEPA media and bare carbon filter did show some physical absorption of formaldehyde, but physical absorption is very prone to releasing whatever it may have absorbed over time since there is no chemical interaction. The EnviroKlenz Air System does actively react with the formaldehyde through adsorption and polymerization on the oxide surface of the EnviroKlenz® media.
---
Save 5% Through Live Fit. Use Code "LFL5" at checkout.
---
Mobile Air System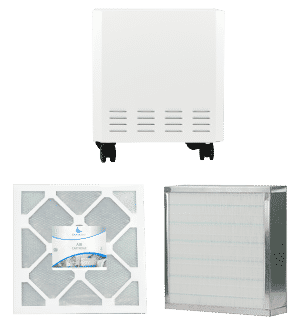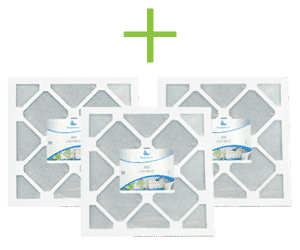 1 x EnviroKlenz Standard Mobile Air System
4 x EnviroKlenz Air Cartridge
1 x HEPA Filter
$949
$699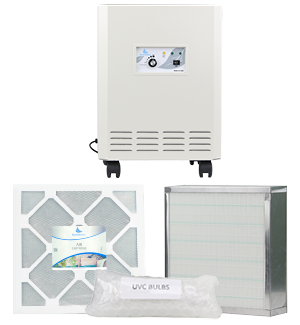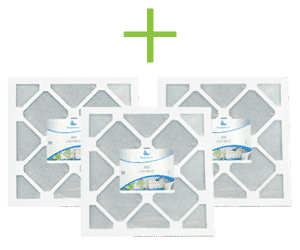 1 x EnviroKlenz UV Mobile Air System
4 x EnviroKlenz Air Cartridge
1 x HEPA Filter
1 x UVC Bulb Pack
$1099
$799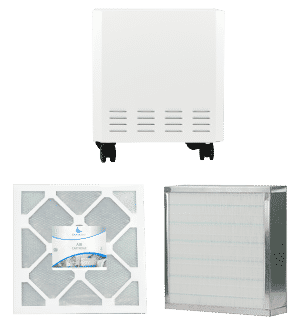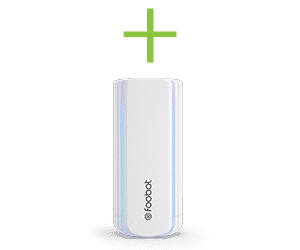 1 x EnviroKlenz Standard Mobile Air System
1 x EnviroKlenz Air Cartridge
1 x HEPA Filter
1 x Foobot® Air Quality Meter
$850
$699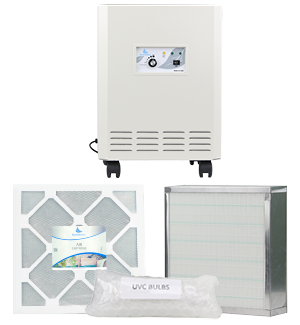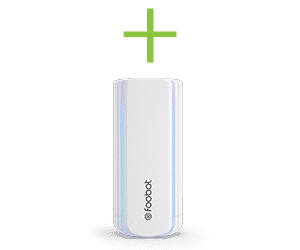 1 x EnviroKlenz UV Mobile Air System
1 x EnviroKlenz Air Cartridge
1 x HEPA Filter
1 x UVC Bulb Pack
1 x Foobot® Air Quality Meter
$999
$799
Customer Feedback
"I have had my EnviroKlenz Air Purifier for a week now and so far the results have been amazing! I had our home remediated for mold and was told by our contractor this is all that he would recommend . The air feels much fresher and I don't fear what is in my air anymore."– James J.
⭐️⭐️⭐️⭐️⭐️
"The smell of paint was gone by the next day and now I feel safe smelling the air in my house."– Noemi O.
⭐️⭐️⭐️⭐️⭐️
"I love this thing so much! I wish I could put one in every room. This is a Godsend!"– Erin A.
⭐️⭐️⭐️⭐️⭐️
"The unit has turned out as advertised. It is quiet, efficient, and works magnificently. This unit has really made a difference in the air quality in spite of our challenges in moving into a brand new home having allergies and MCS."-John A.
⭐️⭐️⭐️⭐️⭐️
"I have the filter in my home, office, and son's school. One of the biggest differences I notice is that we all sleep better when the filters are running."– Dawn D.
⭐️⭐️⭐️⭐️⭐️
"So far it is working well and the air in our bedroom smells so sweet and clean!"– Julie S.
⭐️⭐️⭐️⭐️⭐️
"The EnviroKlenz Mobile should be the only choice for those with chemical sensitivities. The unit isn't the prettiest but it is by far the best unit I have ever owned ( I must own 14+ units). I was amazed at how fast it was at removing chemically reactive gases such as formaldehyde, ammonia, and those found in new carpet or flooring. "– Karen J.
⭐️⭐️⭐️⭐️⭐️
"My obsession for fresh, clean smelling air has put me on a quest to find the quietest and most efficient air purifier and I have finally found it. I have tested all the other major "big brands" and they are just dust collectors. This machine really does what it advertises to do at removing the toxic gunk from your air and have it smell like you are breathing fresh country air."– C Jones.
⭐️⭐️⭐️⭐️⭐️
"I bought this to combat the poisons that were being spewed into my home from our toxic neighbor's fireplace. It works very well, and very fast! Way better than the Big Blue Air I have, and the filter replacement is far more affordable and easier to maintain."– Amanda F.
⭐️⭐️⭐️⭐️⭐️
Frequently Asked Questions
What is the Difference Between the Standard Mobile Air System and the UV Mobile Air System?
Both models work very well to remove the VOCs and chemicals from your air as well as the particulates. The UV model, however, has the added benefit of UVC lights shining onto the collection side of the HEPA to kill any mold spores, bacteria, and other microorganisms that are caught be the HEPA filter
How Many Square Feet Can the Mobile Air System Cover?
I See that the Technology Utilizes Metal Oxides to Remove Odors & VOCs, are these Oxides Safe to Have in my Air?
How Does the EnviroKlenz Mobile System Compare to Other Air Purifiers?
What Tools Will I Need to Assemble the Unit?
How Long Will the Filters Last?
How Long Do I Need to Run the Unit Before I notice a Difference in the Air Quality?
Will the EnviroKlenz Mobile Air System Remove Both Odors and Chemicals?
If I Don't Like the Mobile Air System, Am I Able to Return it?
EnviroKlenz Brand Promise
At EnviroKlenz we are committed to providing the highest quality of Customer Support. As an EnviroKlenz Customer, all purchases include: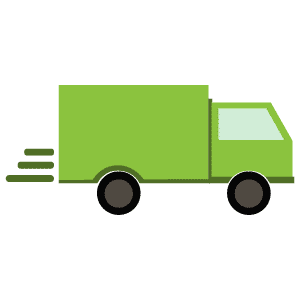 Fast Shipping
Most orders placed before 2:00 EST ship out the same business day. Customers typically receive their orders 2-3 business days after their order is shipped.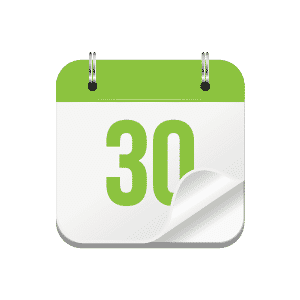 30-Day Money Back Guarantee
If the EnviroKlenz Mobile Air System does not perform as promised, you may request a refund within 30 days of product purchase.
US- Based Customer Support
For any questions or concerns, you can always reach out to our in-house Customer service team at 239-330-9650 or send us an email at [email protected]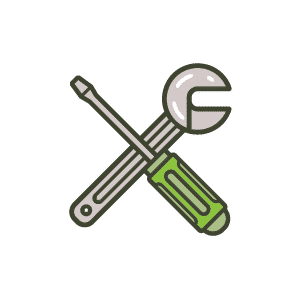 Products Handcrafted in the USA
Every EnviroKlenz Mobile Air System is made by hand in the United States from high quality, American-sourced materials.
The Cleanest Air
Your Home Has Ever Had.
EnviroKlenz Mobile Air System
(Standard Model)
$699Shop Now
EnviroKlenz Mobile Air System
(UV-C Model)
$799Shop Now
(Visited 21 times, 1 visit today)